If you are new to podcasting you might be a little intimidated, but don't worry, it is quite simple! And, once you figure out how easy it is you open up a whole new world of possibilities for yourself. There are podcasts on just about every subject. Chameleons were one subject that wasn't represented, but that egregious travesty has been rectified by the Chameleon Academy Podcast! The best part about it all? It is free!
Podcasting is a prerecorded (most of the time) show placed in a library waiting for you to take it out and listen to it at any time you want. You can search through episodes to pick out the ones you want to hear or just start at the beginning and work your way forward. It is exactly like picking a movie from Netflix!
How does Podcasting Work?
The glue that holds podcasting together is something called and RSS feed (it stands for Real Simple Syndication). The RSS feed is a web address to the location where the podcast is stored. The magic of this is that the RSS feed makes sure every playing service that lists the podcast has the latest episode and information. In fact, this website is working off that RSS feed! That is how the main player on the home page always has the latest episode!
How Can I Listen to this Podcast?
You have two main ways of listening to this podcast. The first is to come back to this website every Friday and play the latest episode from the webpage. Usually, though, smartphone owners install apps on their phones which will check for updates to the subscribed podcasts and will automatically download the newest episode when it is released. You can elect to get notifications when new episodes are released. The Chameleon Academy Podcast also has its dedicated smartphone app for both iPhone and Android phones
How do I Set This up on my Phone?
Find an appropriate podcasting app by going to the iTunes, Google Play, or any other app provider and search for podcast player and you will find many. The Apple iPhone comes standard with a podcast player that looks like this (don't judge me for my unread emails.).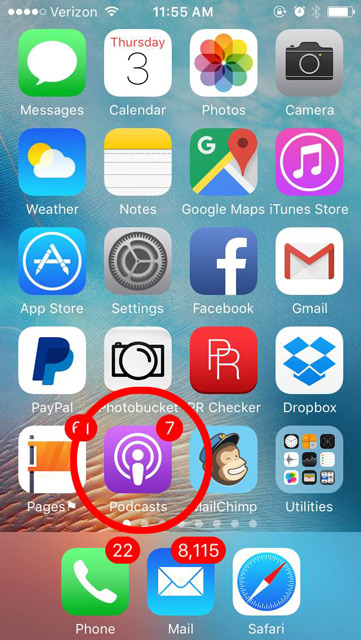 Pressing this icon will get you face to face with the iTunes podcast world where you will be amazed at what you find.  You can search for podcasts that interest you and subscribe to ones you would like to listen to.
If you would like to find this on iTunes click here
Chameleon Breeder Podcast on iTunes
Android devices have similar apps.  To find the Chameleon Academy Podcast you will have to search the iTunes store. Just type the podcast name in the search bar and this one will come up.  Even Android podcast players will search the iTunes podcast library.  Google Play is on the verge of launching a podcast service themselves and the Chameleon Breeder Podcast is already loaded in their system for when this happens.  Some apps will allow you to enter in a podcast via the RSS feed.  They may ask for the podcast URL.  Copy and paste this URL into what ever field needs the information
http://chameleonbreeder.libsyn.com/rss
And that should be it!
What is the Next Step?
The next step is to enjoy the episodes!  It would be great if you would put a rating on the iTunes store.  iTunes ranks podcasts by their star rating and reviews.  Your help with a rating and review increases the visibility of this podcast and makes it easier for other chameleon people to find.  Also join us on our social media outlets.  We are currently on Facebook and Instagram and you can link to those from the website sidebar.  And if you have any questions you can always email me at bill@chameleonacademy.com
I am glad you found this podcast. I'll see you on the air!